Our community energy UK State of the Sector survey and report has provided detailed insight into the UK community energy sector since 2017. After 6 years of running the survey and producing the report annually, CEE have decided to use this year to pause the research, take stock and assess how we can further improve the survey and the impact that it has. Please read our full announcement blog here.
You can download the 2022 report and summary below.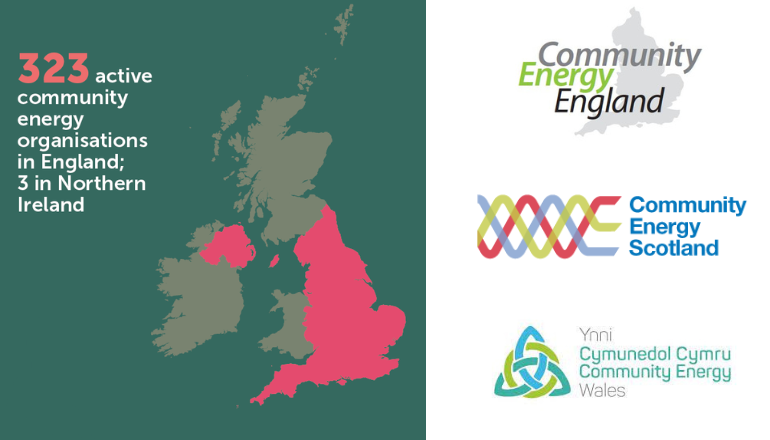 The 2022 report focuses on progress made in 2021, describes how and why the sector is changing, highlights its potential, and provides a strong evidence base to encourage policy-makers and other stakeholders to create a more supportive policy landscape for community energy at local, regional and national level.

The report shows that in 2021 community energy faced its most challenging year ever as the government ignored calls from the sector, and the Environmental Audit Committee, to support its growth to deliver vital local climate action and engagement and huge community benefit. Despite this, the sector has delivered new community owned renewable electricity generation, new jobs, millions in community benefit and savings to bill-payers, and is leading on the emergency response to the energy bill crisis.
£21.5m investment raised for new projects across the UK and £15m of community energy income spent locally, boosting local economies.
During 2021 there was a 38% increase in the delivery of community-led energy efficiency and energy saving services.
123 community energy organisations across the UK are now involved in diverse areas of local energy efficiency support, including fuel poverty and energy advice, building improvement, community education, and direct funding to localities.
Collectively, the sector's energy efficiency interventions are estimated to have reached 57,600 people/organisations and saved over £3.3m for UK households in 2021.
The sector engaged more than 217,400 individuals and raised £21.5m of investment for new projects and services.
Despite COP26 and increasing public support for renewable energy, government support mechanisms have been removed and in 2021 the sector installed only 7.6 MW of new electricity generation capacity. This is a notable achievement given the additional challenges of the covid pandemic, but when seen alongside a 65% increase in the number of organisations reporting stalled projects, totalling 68 MW, the slowdown indicates the significant potential of the sector held back, in part, by the government making it harder rather than easier for communities to take their own action towards net zero.
Thank you to everyone who took part in this important sector-wide project.


Duncan Law, Acting Co-Chief Executive (Policy & Advocacy), Community Energy England:
"Community energy organisations across the UK continue to explore new ways to accelerate the transition to a fair, sustainable, smart and net zero energy system. The State of the Sector 2022 report highlights not only the increasing local engagement and impact of community energy projects, but also the sector's adaptability and resilience in the absence of support from government. Community energy will continue determinedly to drive local climate action and deliver community benefit. With a little investment from the government it could grow exponentially and be the indispensable local champions of net zero".
Scott Mathieson, Director of Planning and Regulation at SP Energy Networks said:
"We are delighted to support the State of the Sector report for a fourth year. This year's report is providing timely data for us, which we will be studying carefully to ensure we can support our local communities in the best possible way to help them realise their net zero ambitions."
Previous reports
Previous reports and other Community Energy England publications are available here.