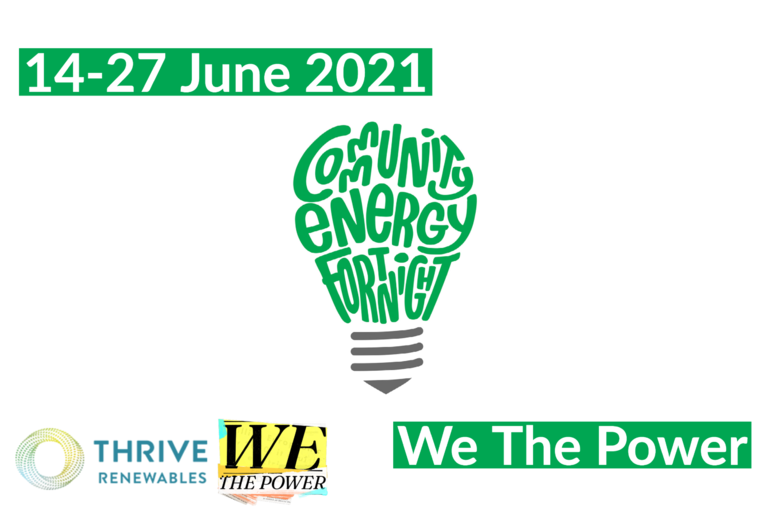 Community Energy Fortnight has finished!
Community Energy Fortnight (CEF) is the UK's annual celebration of all things community energy. Community Energy Fortnight was intended to serve many purposes this year: inspire people to get involved in projects, set up new ones, take personal actions around energy - but also to engage our MPs in becoming champions for community energy and policy change in parliament. This year CEF finished on 27 June and the theme was We The Power.
You can browse the hashtags #WeThePower and #CEF2021 to look back through Twitter activity from the Fortnight.

Videos
Our members and supporters made some great videos for CEF 2021 - thank you for taking part. Special shout out to Exeter Community Energy, Next Generation project, BHESCo, Power to Change and the Energy Networks Association for their contributions.
Watch all this year's videos on our CEF 2021 YouTube playlist.

Events
There have been a wide range of events during the Fortnight this year - we're really grateful so many of our members and supporters have got involved with CEF 2021 by hosting events - thank you!
Recordings of as many events as possible, including our own, are in our CEF 2021 YouTube playlist.

Twitter Takeovers
During CEF, we invited community energy organisations to take over our Twitter account for an hour. This gives an opportunity for community energy organisations and supporters to share their voice and to provide our followers with an opportunity learn more about them and their ambitions for the future.
You can look back at this year's great takeovers by Exeter Community Energy, Orchard Community Energy, Younity and Thrive Renewables.

Blogs
We love reading and sharing the sector's wide-ranging thoughts and opinions on the energy transition, social benefits, renewable technologies, policy, and much more, and we're grateful to the people and organisations who countributed blogs to CEF 2021:
Isobel Shaw, Orchard Community Energy
Farina Farrier, the Energy Networks Association
Dan Curtis, BHESCo
Éva Goudouneix, Repowering London with Co-operatives UK's Community Shares Unit
Monika Paplaczyk, Thrive Renewables
Whitni Thomas, Triodos bank
Dr Tim Braunholtz-Speight, Tyndall Centre for Climate Change Research, University of Manchester
Keith Hempshall, Centre for Sustainable Energy
Phoebe Adams, UK Power Networks
Andy Heald, Energise Barnsley
Dr Elaine Forde, Swansea University
Patagonia, supporters of CEF 2021

Thank you to our sponsors and supporters
Patagonia is supporting this event as part of their We The Power campaign. We thank them for their support and interest in promoting the community energy movement.
Thank you also to Thrive Renewables for sponsoring Community Energy Fortnight 2021. Thrive Renewables is a renewable energy investment company. They're powering the UK's transition to a sustainable energy future by helping people connect with clean energy projects. Thanks to their thousands of investors - large and small – they have financed, developed and operated 26 wind, solar, hydro, geothermal, battery storage and renewable heat projects over the last 26 years. In 2020 they generated enough clean, renewable electricity to power 40% of the UK's EV journeys, saving 66,689 tonnes of CO2.
Community Energy Fortnight News