In June 2019, Community Energy England and Community Energy Wales launched the third State of the Sector Report. We are currently formulating plans for collecting data for our 2020 report.
This report builds upon previous reports from 2017 and 2018 and assessed data up to the end of 2018.
The Community Energy: State of the Sector 2019 was prepared by Scene Connect on behalf of Community Energy England and Community Energy Wales. May thanks to SP Energy Networks for its financial support of the report.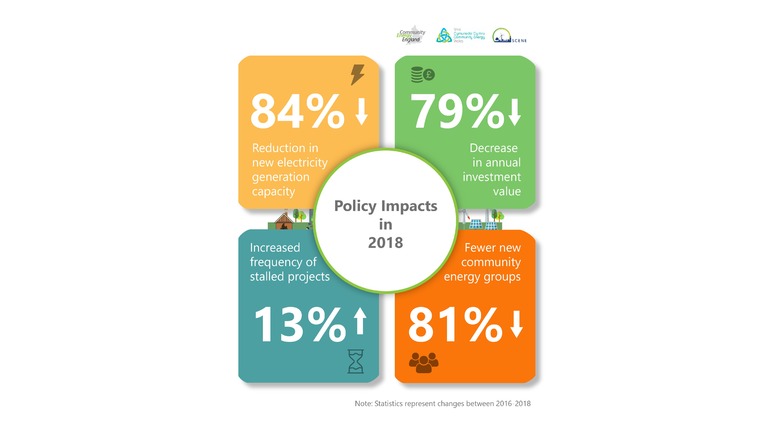 Key findings of the report are:
2018 was the toughest year yet for community energy: The sector has been negatively impacted by recent reductions in subsidy support and unclear government strategy.
The removal of the Feed-in Tariff is already having dramatic impacts: Few new generation projects were developed in 2018, with newly installed generation capacity falling steeply in comparison to previous years.
Communities are concerned about the future of the sector: With fewer opportunities and greater challenges, many community energy organisations are moving away from energy generation and towards energy efficiency and wider low carbon projects.
Community energy continues to demonstrate resilience and determination: In response to increasing challenges, communities are developing new business models and exploring innovative new technologies and approaches to low carbon development.
Community energy across the UK is in need of clear guidance and support: Communities must be supported to access new opportunities and innovations to ensure the long-term growth and additional impact of the sector.